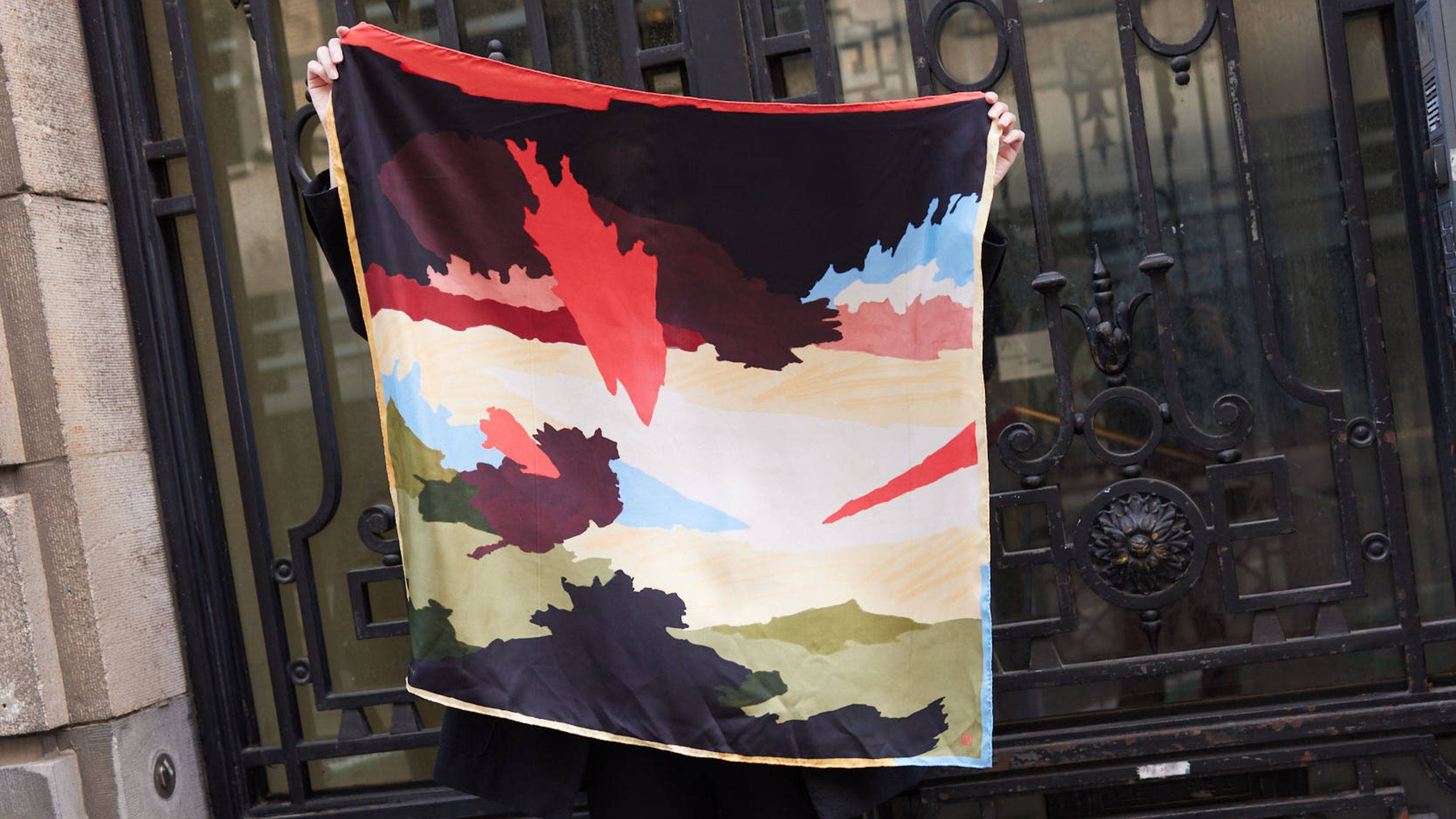 THE SILK SCARF COLLABORATION
WITH GAËLLE DE LAVELEYE
Rue Blanche aims to create pieces that can carry over from season to season and lay the foundation for your wardrobe. When autumn hits our regions, when nature starts to deepen its colours, and when we want to start layering and cocooning, we turn to that perfect accessory: the silk scarf: timeless, versatile, and with the power to pull together any outfit. For the design of the A/W 23 scarf, we collaborated with artist Gaëlle de Laveleye, who painted a deceptively simple landscape, warm and rich, but as layered and complex as nature itself. We talked with Gaëlle, who moved with her family from Lisbon to the French Pyrenees, about her inspirations, motivations and life in nature.
Our S/S 023 silk scarf was updated by the artist in a seasonal colourway for autumn-winter.
(The article with the artist was first published 8 months ago.)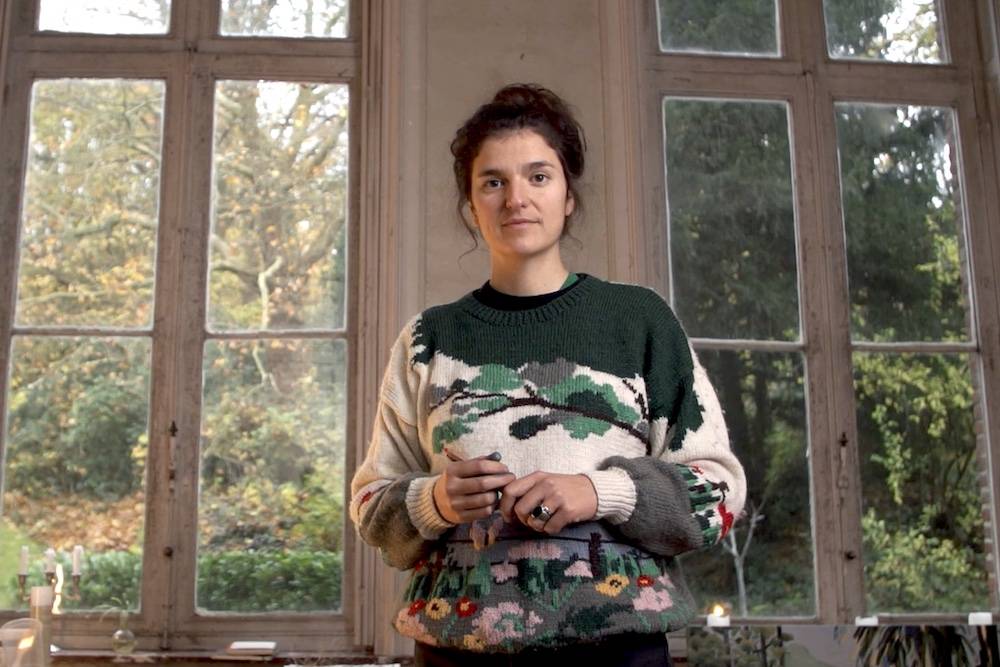 You moved from Portugal to France. How is France treating you?
I have to admit, I sometimes miss the Portuguese light, but the eco-village project that we came here for is turning out to be a beautiful adventure. We are forming an intentional community dedicated to living in a more sustainable and cooperative way. It's pretty busy at the moment: we are building a theatre overlooking the Pyrenees and an artists' studio in the woods, but we're also taking care of the land by planting hundreds of trees. The forest at the end of the garden is so vast that it fulfils my need for air, reflection and inspiration... And my occasional outbursts too (laughs).
What was your inspiration for the design you made for our silk scarf?
Nature is my first source of inspiration. In this instance, the abundance of plants as well as the bare horizons of imaginary landscapes are infused with a muffled tension, a kind of apprehension that suggests something happened or is about to happen. I wanted to capture a moment of which we are uncertain: are we right before or right after the event? Can we still do something to change it?
I used oil pastels, inspired by the colours of the Rue Blanche collection. Since it's not easy to scan pastels, I retouched the image afterwards.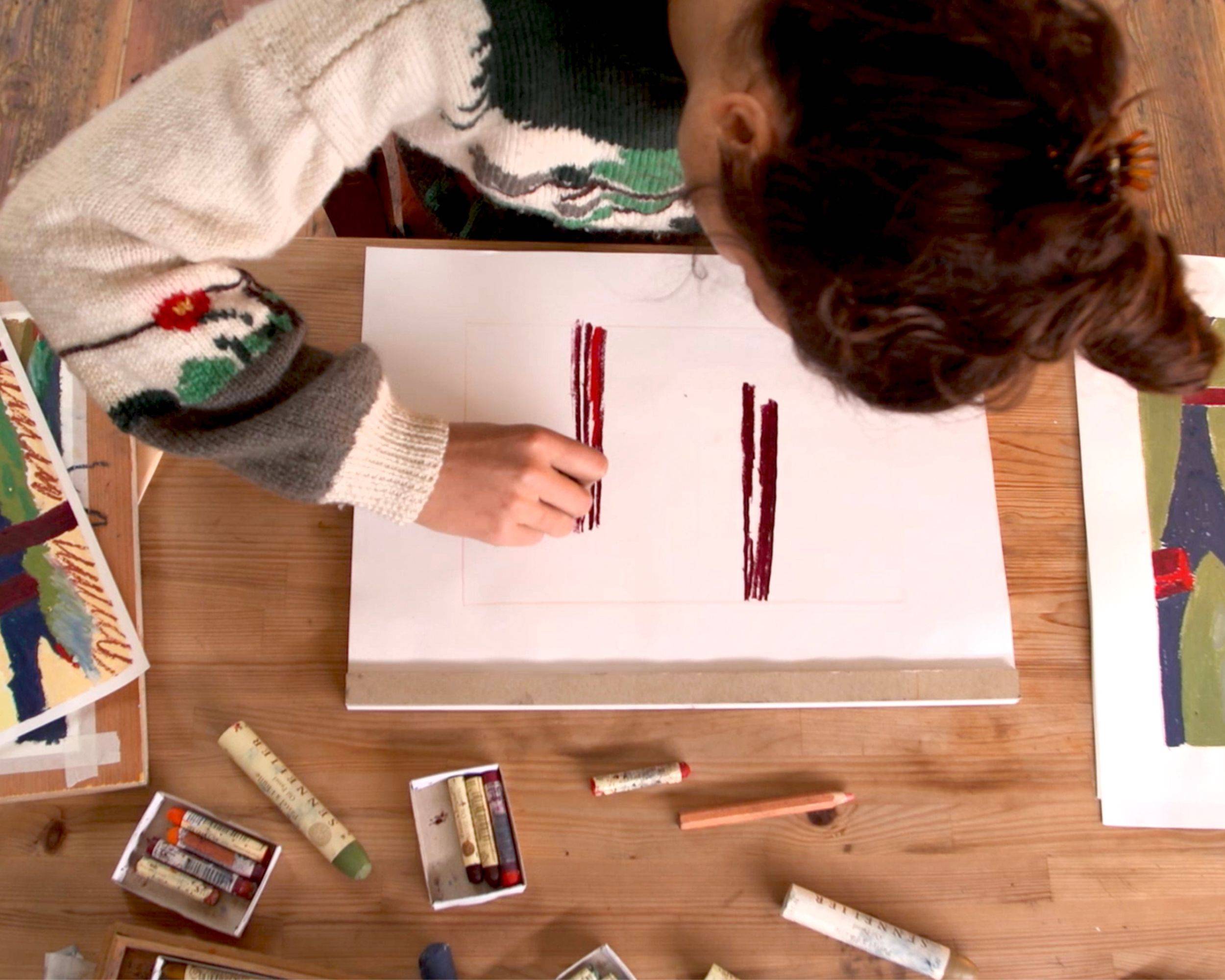 I don't like repetition so I play with it according to my mood: tie it in my hair, another time around my neck… Or use it as a belt…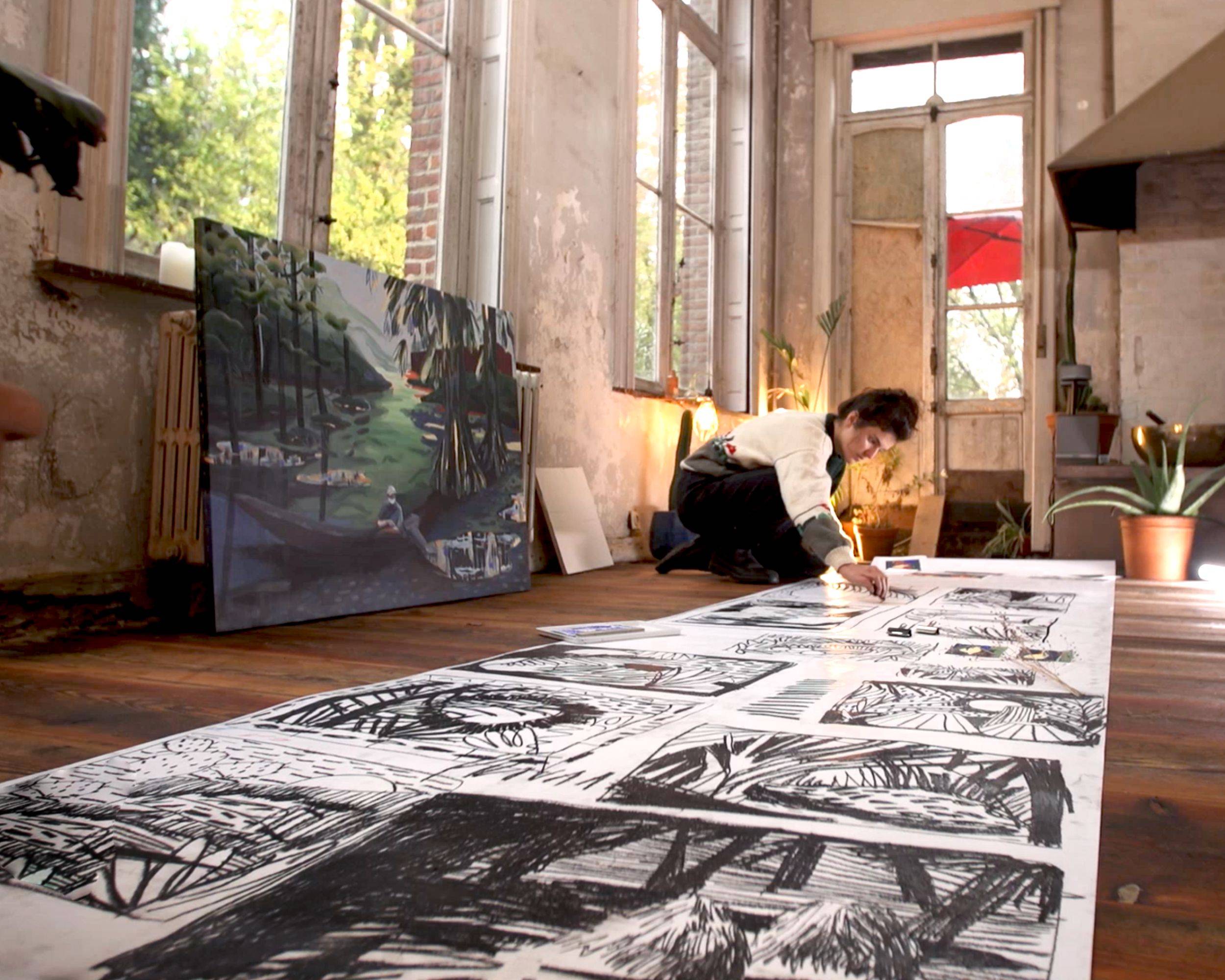 What artists are you discovering at the moment?
Annabelle Guetatra who recently collaborated with my sister Soline on an animation. Francisco Rodriguez, a Chilean artist. Raffael Bader, whom I discovered through 'the algorithm' on Instagram (laughs). But I can tell you this: until we are ready to host artists – through the residency programme – the nature and our surroundings here definitely feed me plentifully.
How do you wear a silk scarf?
I don't like repetition so I play with it according to my mood: tie it in my hair, another time around my neck… Or use it as a belt… Until, obviously, my daughter Éa gets her hands on it!