ITALIAN & JAPANESE FABRICS
A conversation with Julie Schöller, production assistant at Rue Blanche
Certain Rue Blanche garments carry an additional label indicating that their fabrics are made in Japan or Italy. To discover more about these particular textiles, we talk with Julie Schöller, the production assistant at Rue Blanche responsible for ordering them. Julie's love for tactile beauty brought her to study Textile Design at La Cambre in Brussels. There she learned how to tell stories with threads and colours. Julie is a gentle person – a 'born dreamer' – who previously worked as a documentalist at the Fashion and Textile Museum in Paris and as a textile designer for a West-Flanders manufacturer of luxury linen.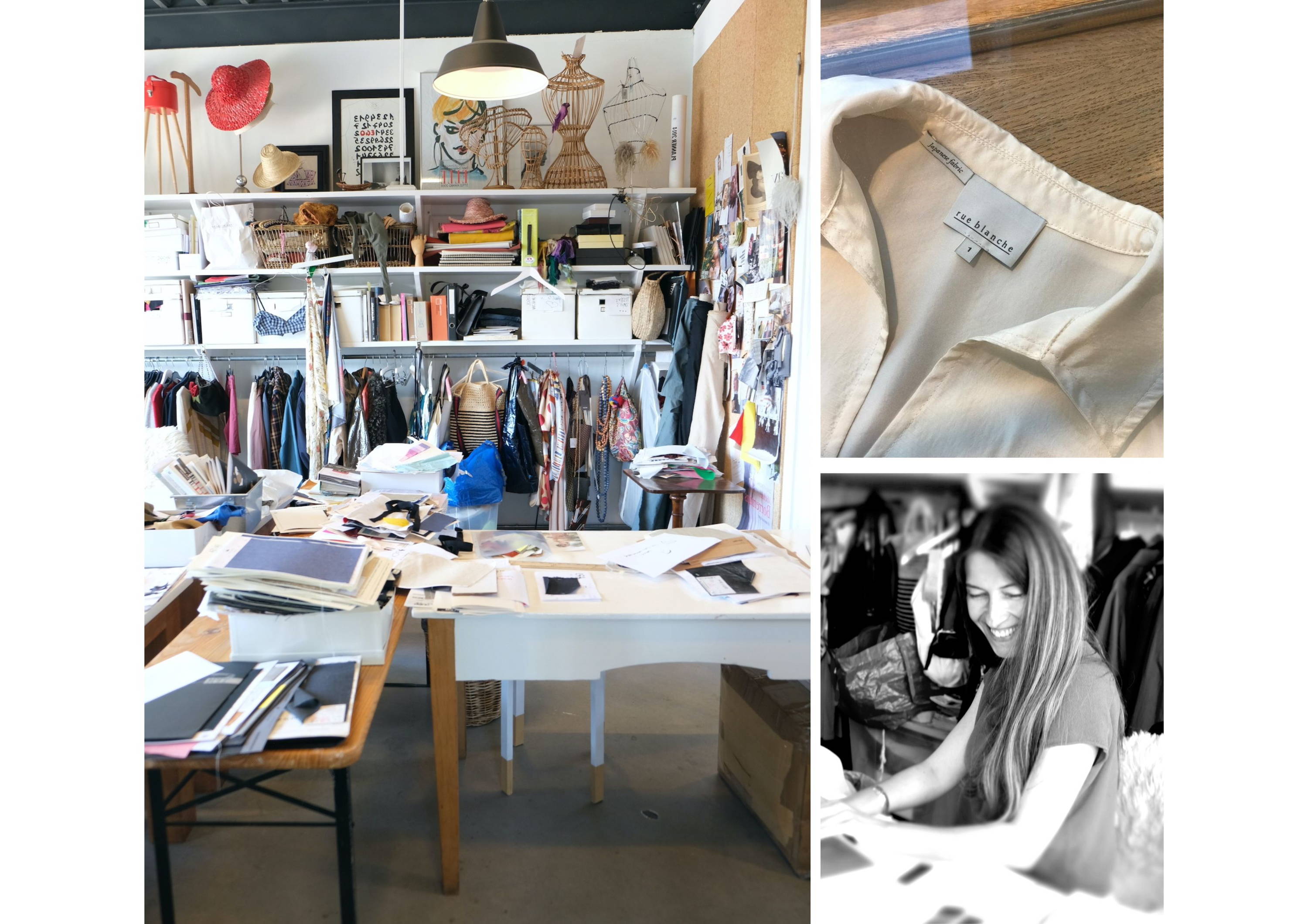 Left: creative space in the Rue Blanche headquarters, Brussels, 2022. Right: Parti blouse &
Julie Schöller at work, 2022.
Julie Schöller, what exactly do you do for Rue Blanche?
I am the production assistant responsible for the woven fabrics. It's my job to ensure things move smoothly, so I assist from the moment the design team chooses the outlines for the coming season, up to the moment when the fabrics arrive in the ateliers for final production. Rue Blanche is a stimulating environment for me. What makes all the difference is the beauty of the final collections and the warm team of passionate people I work with.
Some Rue Blanche garments carry specific labels that indicate where the materials were made. Could you elaborate?
Rue Blanche only works with renowned manufacturers who attach great importance to quality. The fact that some fabrics are manufactured in Italy and Japan – two countries with a strong textile past — is a guarantee for excellence. High quality always begins with good design, but also the yarn, the fabric and the confection matters.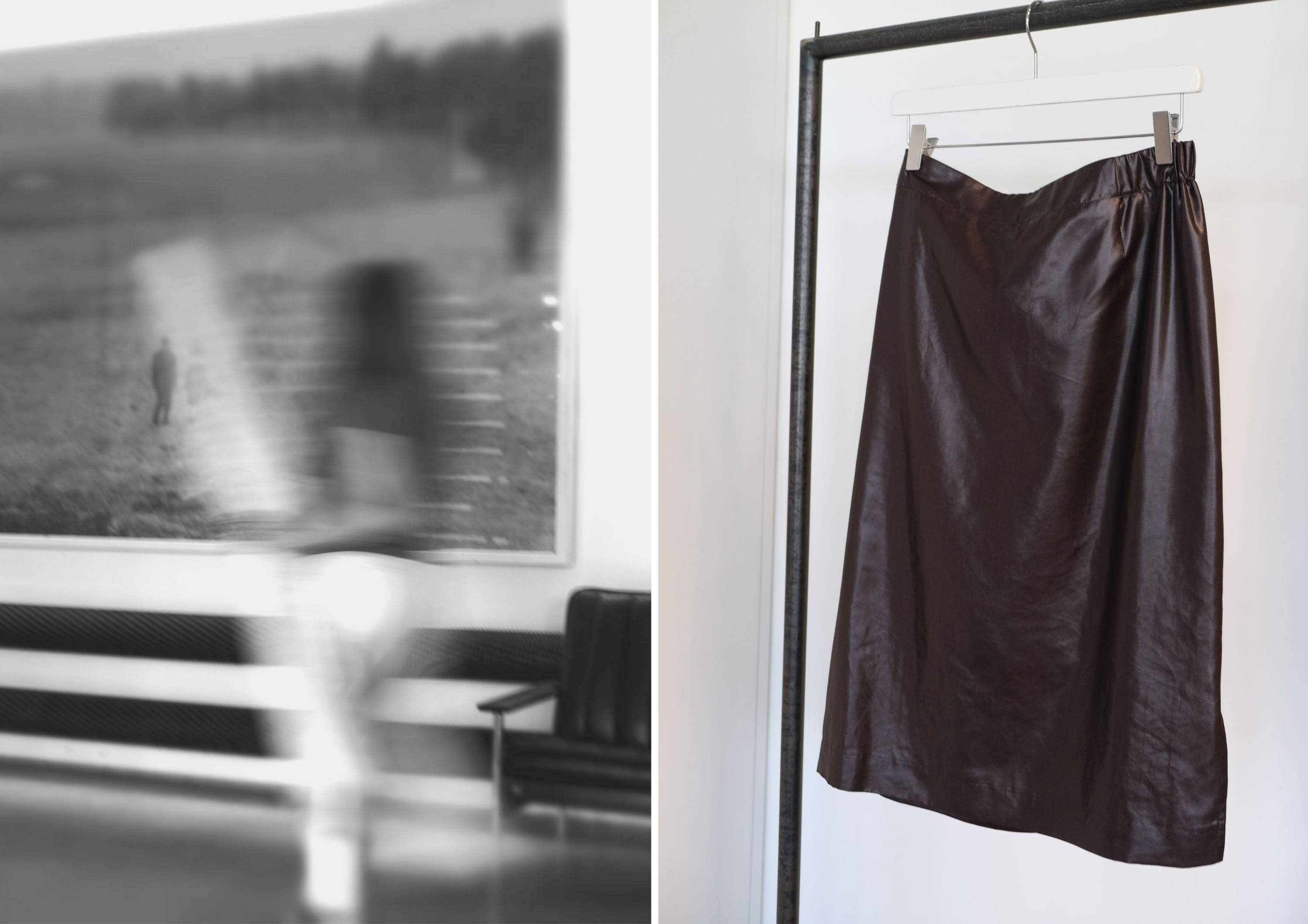 Left: Julie Schöller in the Rue Blanche headquarters, Brussels, 2022. Right: ICIA skirt in Japanese fabric TL42-20 [AW22].
Why is it important for Rue Blanche to point out that Italian or Japanese fabrics are used?
Customers are made aware of the importance that Rue Blanche attaches to quality. I believe information about the values of a brand strengthens the bond of trust with its customers. What distinguishes one brand from another are the values that they stand for. The awareness of the customer will make them choose something that they will not only be touched by aesthetically, but will also support philosophically and ethically.
What do you see as the main difference between Italian and Japanese fabrics?
Rue Blanche singles out very diverse fabrics from Italian and Japanese suppliers. The Italians we work with are exceptionally strong in creating delicate wools, so one could simply not resist that. For our collections we tend to work with Italian poplin or choose for luxurious Italian silks and prints. What we love from our Japanese manufacturers ranges from fine cottons and wools, to superb synthetic fabrics with an interesting look, weight or finish. Our Japanese suppliers also let us order smaller quantities, which is super nice for small businesses like ourselves. Moreover, Japanese people are extremely professional and nice to work with. Their service is sublime!
What is your absolute favourite fabric of AW22?

The Japanese fabric TL42-20 stands out in look and touch and is as light as a feather to wear. I personally love its deep ebony colour, but it's also a surprising fabric. You don't see it right away but when in motion there is a leathery water-like shine that flares up. It reminds me of traditional African techniques where they beat cotton with a wooden hammer to obtain shine. As can be the case in our regions, the clothes made with this type of beaten fabrics are worn during important ceremonies. TL42-20 reminds me of that: it's delicate, different and chic.