A series of conversations with friends and customers of Rue Blanche who inspire us in the way they dress, live and look at the world.
We arrive on a grey autumn afternoon in Evelien Bracke's Ghent apartment: a serene, book-filled home that has good views over one of the city's many waterways. The artworks, furniture and objects throughout were thoughtfully collected over the years by Evelien and her partner Christophe, an architecture professor and writer. While we sip our coffees, she openly reflects on her curatorial work at Design Museum Gent, becoming a mother, and the importance of body literacy and staying true to yourself.
Photography © Mieke Verbijlen


My partner and I are keen readers, so books take centre stage in our flat. When I moved in five years ago, we were overwhelmed by the combined volume of our individual collections, so we had a shelving system custom designed by Doorzon interior architects to solve this problem. Many of the artworks on the wall are Christophe's and architecture-related – he teaches Architectural History and Theory in Switzerland. There are some smaller design pieces which are mostly from designers that I worked with in the museum (Design Museum Ghent). I guess, since we both have demanding jobs, we look for calmness at home. That said, after the arrival of daughter Ada, our home is not always peaceful and quiet anymore (laughs). She's a very active girl who just turned two in May.
Ada was born during the pandemic?
Indeed. My daughter was born during the Covid lock-down. This meant we were not allowed any visitors. At times profoundly difficult. Around that time, I experienced being at home as oppressive. I felt completely cut off from the world. Like all mothers I had acute sleep deprivation, but unlike young mothers who give birth in their twenties, I was forty when I became a mother, and my recuperation was much slower.
Do you feel it happens more these days that women choose to have a child at a later point in life?
Yes, and in a way that is good. You can figure your career out and know yourself better. But it's not without its troubles biologically. Perhaps we don't pay a lot of attention to body literacy in our society anymore. Instead, I feel that my generation has been extremely focused on cognitive achievements. Historically, climbing the career ladder hasn't always been easy for us. Many women before me had to fight for opportunities, so when opportunities were handed to my generation, we seized them. We proved ourselves and did what was necessary to achieve our goals. But there's an obvious downside to this. We want to do everything equally well but it's impossible. As a new mother, I have been very occupied with the idea of motherhood and how it's so under appreciated in our society. I want to explore it further in my work as a curator.
They say it takes a village to raise a child, but nowadays we just don't have that village anymore.

"
Do you see a connection between motherhood and design?
I'm fascinated by all aspects of design related to motherhood. A beautiful selection can be found in the recent book 'Designing Motherhood'. From the pill and pregnancy tests to maternity clothes, baby clothes, and just everything that mothers encounter in terms of design. If you start paying attention, there is much room for improvement. And design has the ability to provide alternatives and act as an agent of change. Like I said, I believe motherhood is systematically undervalued in our society. They say it takes a village to raise a child, but nowadays we just don't have that village anymore.
How does being a mother influence the way you dress?
I finally understand why women cut their hair when they become mums (laughs). It's such a cliché, but it's true: there isn't much time for yourself anymore when you have kids. You have to be more efficient with a child. In one way it makes me play safer, choosing more easy-to-combine basics. But at the same time, I also navigate towards some crazier, unique pieces. On those rare occasions that I do go out, I want to show myself fully and feel glamorous. For me, clothes must be timeless, well-made and practical. And I try to buy Belgian design, whether it's clothes or jewellery. I've got a weakness for contemporary jewellery. It is a fascinating world!
Do you have a favourite piece of jewellery?
I have two necklaces, one from my mother and one from my grandmother that I wear every day. And I treasure my bracelet designed by the Belgian jewellery designer Charlotte Van de Velde.
Which garment from the Rue Blanche AW22 collection is on your wish list?
Who do you think has good style?
I love the way Fien Muller combines vintage with new pieces.
What's your favourite item at home?
Our LCP chair by Maarten van Severen.
What do you like to surround yourself with?
With books, objects that have a story, my daughter, partner and our cat Muisje. Although I read less now – some evenings I fall asleep after two pages (laughs) – I would like to go back to that more.
What's the best book you've read in the last couple of years?
When Ada was born, I read 'A Life's Work' by Rachel Cusk. Everyone always talks about how beautiful and wonderful it is to become a parent, but it's damn hard too, and there aren't many people openly talking about this. Cusk tells it how it is: recognisable and very helpful!
Since you don't read as much books anymore, how do you keep yourself centred?
I have a weekly yin yoga class that I immensely benefit from. I started to schedule self-care more since becoming a parent. You know, those first years, you are completely at the service of your child. You need to prioritise and learn to say "yes" to yourself.
What's your favourite magazine?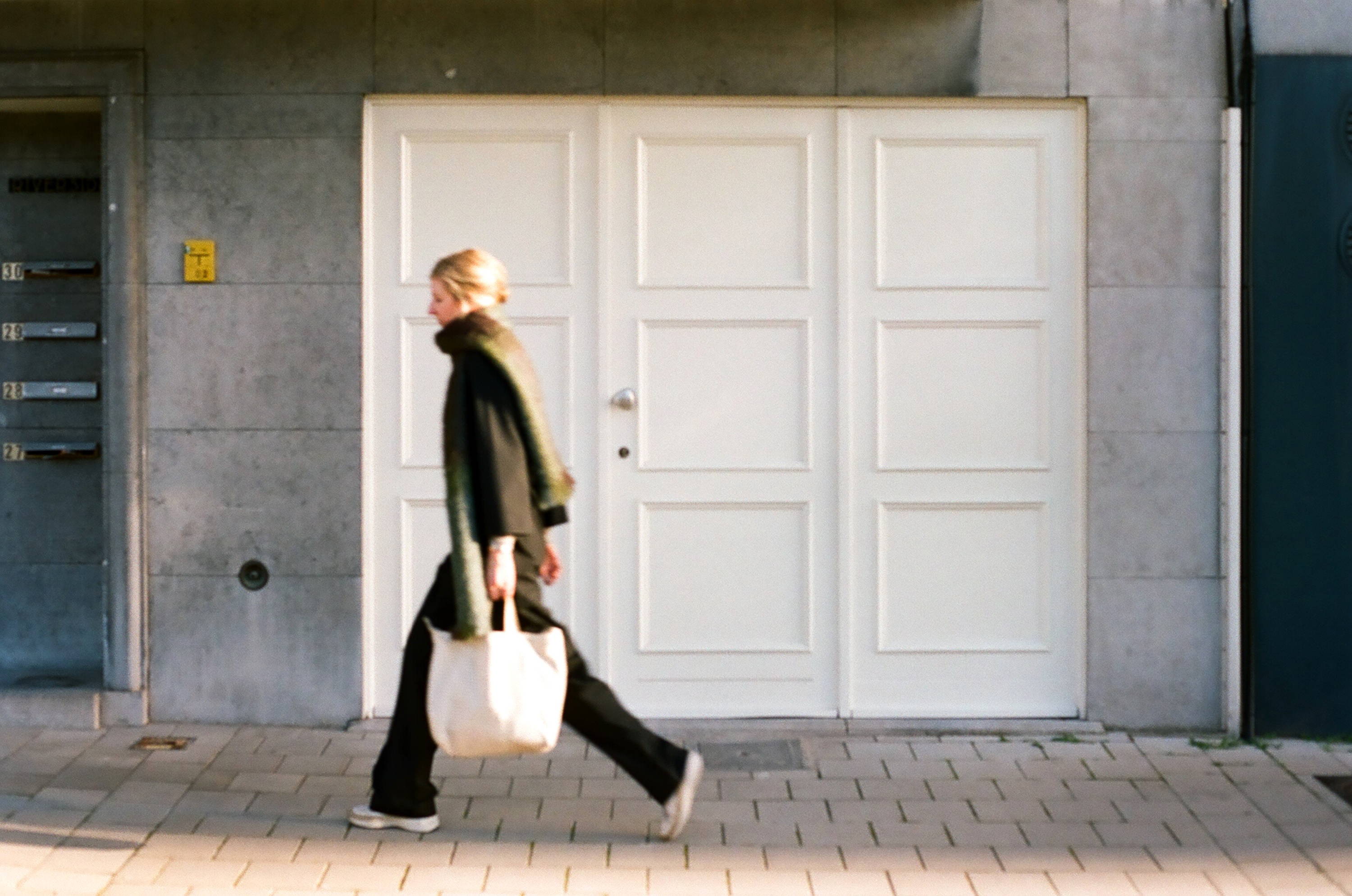 Evelien Bracke on her way home © Mieke Verbijlen
(Evelien wears MELVIL jumpsuit and LOVAT & GREEN scarf.)
For me, clothes must be timeless, well-made and practical. And I try to buy Belgian design.
What do you find inspiring in people?
I get inspired by creative people who have an idea and go for it. And people who stay close to themselves. So important. Certain standards and values are imposed by our surroundings but sometimes clash with what's inherently essential for us as individuals. I see more young people stepping away from conventions and what society expects of them. A good trend.
What's your latest food discovery?
The Rijksmuseum Cookbook designed by Irma Boom and EAT THIS in Ghent.
What do you like about your city?
Culturally, Ghent is a super vibrant and creative city. It's smaller than Antwerp or Brussels, but perhaps the size, at least for me, makes it gentler and cosier. And the accent is beautiful! We can do everything by bike and don't need a car anymore. The architecture in Ghent is quite unique and really works for me. It's very rich historically but it also has some interesting contemporary interventions: the Stadshal, the production studios for Les Ballets C de la B and LOD, for example, or the upcoming new extension of Design Museum Gent.
What's your next city trip?
Paris is always on my mind. Whenever there is an opportunity, I try to travel there.