A series of conversations with friends and customers of Rue Blanche who inspire us in the way they dress, live and look at the world.

Cursing the dreadful Belgian weather on a spring's day in March, we roll into the city of Aalst to meet Lara Chedraoui. After a bad break-up, the front woman of Intergalactic Lovers – also actress and TV writer – decided to go and live again in the house where she grew up. During our interview, Lara is continuously and amusingly questioning herself and the world in a rapid stream of black humour, while Teddy Wally, her Maltezer, keeps us equally amused.
Photography © Mieke Verbijlen
After my break-up three years ago, I went back to living in my childhood home with my mother. I was in the process of renovating her house for her. Every time I proposed a new sink, a floor, or a curtain, she would ask: "how do you clean it?" My mum has a thing with keeping her house very neat and tidy. (If Dyson ever needs a spokeswoman, she is your girl.)
I personally like to have a mix of found objects, second-hand and designer furniture in my home. Aesthetics are important to me: I need to surround myself with beauty. Sometimes I contact a real estate agent and visit a house that's for sale, but totally unaffordable for me. Like, in the millions. Just for the inspiration and fun. Everyone loves looking inside people's homes, no? It's like going to a museum.

How is it to live in the house you grew up in?
It's actually my second childhood home. I grew up in Lomé, the capital of Togo, until I was eight.
How did you experience living in Africa?
Sun all day, every day. I have colourful memories of playing in the garden and swimming in the ocean. Every weekend, we would meet our school friends at Robinson Beach, a rendezvous point for families, because of the little zoo attached to it, with monkeys and snakes. I had a careless childhood. But in the early nineties there was the threat of civil war in Togo. In the weeks before we left, I vaguely remember rumours of school buses being set on fire. There is a story my mum tells to explain why she moved to Belgium so abruptly: she was standing on the terrace as my sister and I were playing inside, and an armed person was climbing the wall to our house trying to break in. She ran inside and a week later we were in Belgium. But I don't remember it. Instead, I remember very sharply the sweet promise of going away with my scouts group for the first time. One afternoon in June, my mum came to pick us up after work. She drove us straight to the airport. We didn't go home first to say goodbye, and we never returned.
That must have been traumatic for you and your sister.
For my parents, too! My father had to stay behind because of work, and from one day to the next my mother became a single mum. My sister Maya became seriously ill. We all struggled with our new reality in our own ways. Maya and I also didn't speak proper Dutch when we landed in Aalst. In Lomé we went to an international school where the main language was English. We had some understanding of Dutch because our mum spoke it to us, but we spoke French or English back at her.
For me, the "colour difference" was very tough. In Togo, we were surrounded by palm trees, colourful, dancing people, flowers, animals and nature. At school the children would come together every morning and sing songs. When we started school in Aalst, the first thing I saw were grey stones everywhere and the first thing I heard was this awfully loud bell, which meant – this was terrifying to me – that the children had to get in formation. It was like the world had lost all its colour.
For me, the "colour difference" was very tough. In Togo, we were surrounded by palm trees, colourful, dancing people, flowers, animals and nature. At school the children would come together every morning and sing songs.
Do you think your experience of displacement has altered what a home means to you?
You would think it does something to you, but you can't be entirely sure what exactly, right? Everyone handles adversity differently. I'm very aware that there's trauma with a capital T and trauma with a lowercase t. Although, indeed, it had a dark effect on all of us, our kind of trauma should be written with a lowercase t. I don't think it's exactly healthy or fair to put our experience at the same level as people who suffered wars and persecution. In recent years I have surely placed less importance on the location of a home itself. If people feel good, I will feel at home.

There's a proverb about Flemish people that says they are born "with a brick in their stomach". I indeed feel that certain things are simply, but firmly expected of an "adult-above-thirty". But I have always put music and travelling above saving money to buy a house; I don't want children; I don't have a partner; and on top of that: I still live with my mother! I guess considering the expectations I am a great disappointment (laughs).
You have a strong connection with your mother?
With our move, my mother lost her complete social network, her friends, her job, basically her entire life. She raised us alone. What a lot of my parents' peers in Togo did was to send their children to boarding schools across Europe, but my mum didn't want to do that. She made a big sacrifice just to see us growing up. I respect her deeply for this. It was hard work.
What object will you never part with?
A shoe box with photos from Togo, pictures that hold memories of a different chapter, one in which we were a family of four in an exotic place.
What is your favourite place in Aalst?
The city park and the Osbroek next to it.
Do you have a daily routine?
I kind of have a morning routine. Usually my day starts early, around seven. I make my bed – I have enough chaos in my head, so I prefer to not come home to it. Since I had Covid for the entirety of two years, I became interested in trying to be healthier. Around the time of my recovery, I started the habit of oil pulling, which is using coconut oil to rinse your mouth for 15 minutes, which I still do every morning. Next, I have a cup of coffee and a big glass of water, and if there's time, I have a breakfast and a walk before I leave to work.
Does your job affect the way you dress?
I like to dress up a little bit on stage. I like Belgian design like Christian Wijnants, Stefan Schneider and Dries Van Noten for this – I'm a regular buyer at their stock sales, but I also love vintage. Antwerp has some great shops for designer vintage clothes, like Rosier and Labels Inc. Next to always visiting local supermarkets when I travel or tour, I always look out for thrift shops: it's nice to have a second-hand sweater from New York or a pair of trousers from a flea market in Berlin.
Which garment from the Rue Blanche AW22 collection is on your wish list?
It's nice to have a second-hand sweater from New York or a pair of trousers from a flea market in Berlin.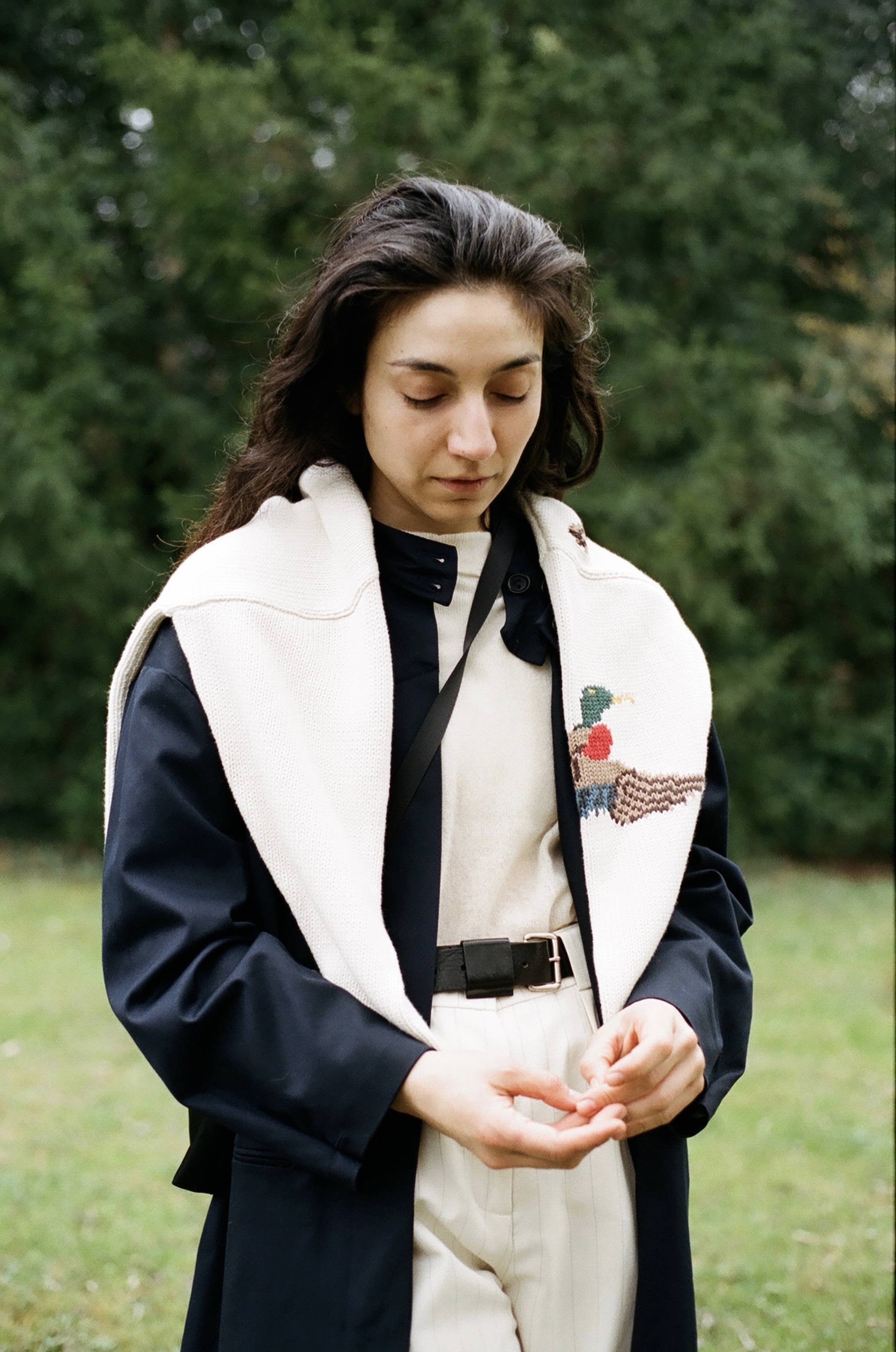 How has your wardrobe evolved over the years?
It's important that I feel comfortable on stage so I like loose garments in breathable fabrics. I have a tendency towards a boyish and very casual, relaxed style, but I try to be a bit more daring recently. I find it very cool when I see people showing their personality with make-up and clothes. Although I am a notorious fan of black, I recently have been going for bolder colours too. Mostly paired with black, navy or white though (laughs). In terms of materials, I tend to keep it more and more basic and natural: I love wool in winter and cotton in summer.
In which garment do you always feel yourself?
Who do you think has good style?
Lauren Bacall. She wore tailored suits and trousers a lot.
I find it very cool when I see people showing their personality with make-up and clothes.
What do you like to surround yourself with?
I need books – I am reading Deborah Levi at the moment – and good friends around me. I don't always have to physically see my friends, but I keep in touch with them. I often send voice messages to them — I call them mini podcasts — that only say "I love you" or that speak of everything and nothing my wandering mind is experiencing.
The best book you've read in the past year?
Henry and June by Anaïs Nin and Max, Mischa & het Tet-offensief by Johan Harstad
What advice would you give your 20-year-old self?
It will work out, really!
Photography © Mieke Verbijlen